Whenever I go to the UK I always try to go to a lovely little town near Shrewsbury called Bishops Castle.
This little town is just a gem containing all the kinds of things that I love, a treasure trove of wonder.
Friday is my day to go as its market day and that means that Rosie will be in the market hall with her treasures.
I don't think I've ever been there and come away empty handed.
Rosie at her stall at the market hall.



This time when I went to Rosie's I met this striking young woman called
Rosalind Jana
.
Rosalind Jana, a student at Hereford Sixth Form College, has just won the prestigious Vogue Magazine's
'Talent Contest'. The competition has been running for more than 60 years, and attracts more than 500 entries. Vicky Orsmond, Rosalind's English Literature teacher, said, "Contestants had to submit three pieces: a personal memory, a short feature article and an opinion piece. Their work was judged by the editor and to be the outright winner is a fantastic achievement."
We talked for a little and then her parents came into Rosie's too so I met them.
Rosalind is a young woman with what I'm sure will be a very interesting future.
Rosalind.
Rosalind really loves to wear vintage clothes and jewellery so she is also a fan of Rosie's, for her though she has the chance to visit quite often, for me its maybe two or three times a year.
Jewellery at Rosie's.
Rosalind.
Next is onto the second hand bookshop.
Whilst enjoying a large cup of coffee and a piece of homemade coffee cake I was kept company by the cats.
I am always pleased if they are around because the fluffy one always comes and sits on my knee.
The bookshop cat.
Here he is waiting for a lap to sit on.
Cat in a box at the bookshop.
The girl cat is a lot more reserved and she prefers to sit in her box on the window ledge so she can watch the world go by and of course enjoy the warmth from the radiator, typical of a cat !!
Faithfully waiting.



Next to meet was this lovely border collie who was waiting outside another cafe .
The deli at Bishop's Castle.
Then onto the deli which always looks so lovely.
I just love the baskets but as I've two at home like them I resisted.
Finally onto
The Gallery
which has an excellent collection of beautifully crafted items.
I love going there and talking to the owner, a lovely talented woman.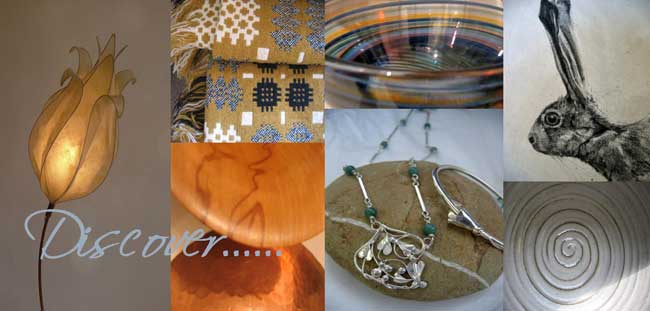 This is the clock tower on the market hall.
When I walk up the very steep road that leads up to it I always feel happy as I know there'll be delight waiting.
Market Hall clock, Bishop's Castle.